The Lazarus // Espresso Blend // Medium-Dark Roast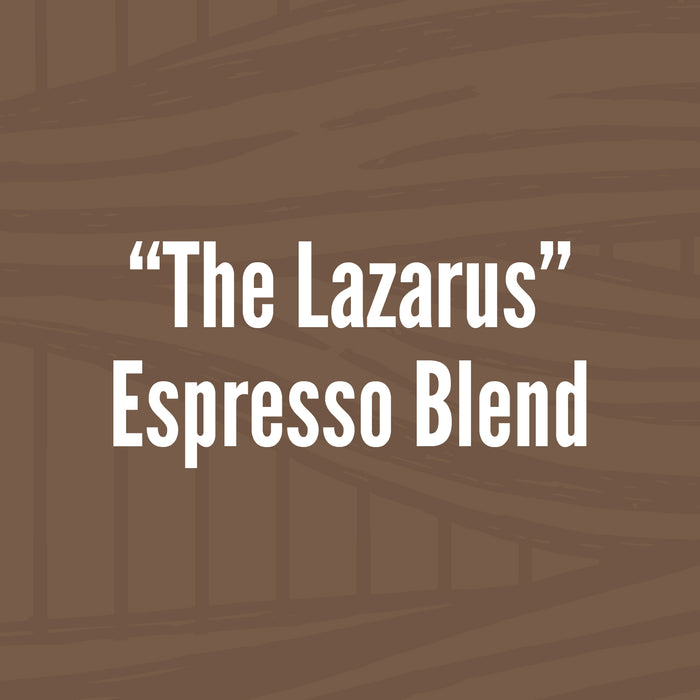 Rise up! Resurrect your morning with this super chocolaty blend of Colombia and Ethiopia beans. Specially made for espresso, but just as good in a traditional drip brew. This medium-dark roast packs a punch that is sure to bring even the sleepiest of moms and college students back to life.
Pleasantly amazed
I have had pike creek coffee elsewhere in years' past. Fast forward: I got into espresso rabbit hole and got myself a Bambino Plus. I used pre-ground thinking it makes no difference if I grind my own (my excuse for not buying an espresso grinder). Well, I found a reasonably priced grinder (Baratza Encore ESP) and started using cheap beans from Walmart. I was blown away how much better freshly gourd espresso can be than pre-ground. Then I was told to use freshly roasted from local roasters. I'm originally from Delaware so my first thought was Pike Creek Roasters as my local roaster. It took about 4-5 days from order to arrival with free shipping. I ordered the Lazarus (medium dark for espresso). I was able to dial it in immediately. Set at 19 and it's consistently impressive. My 17 grams yielded 34.6 g within 28 seconds. Couldn't be happier with these beans. No more store bought beans for me. Thank you for a wonderful tasting latte every morning. I look forward to ordering on a regular basis.
BTW, there's no roast date on the packaging. And when I emailed the company, one of the owners immediately responded to me explaining why. He reassured me that my beans were roasted fresh. The taste convinced me that it was. So much better than Italian style coffee that comes in vacuum sealed cans. Thanks, Brad.
My Comments
I love the coffee. Re-sealable bags would be great
Still Great
I am pretty sure I have reviewed this before, but this is still a great coffee. I have switched to using this almost exclusively for espresso in our Jura super automatic machine. It is not as oily as some other blends or single origins, which is important in a machine like this.
This is a great European style espresso blend, which brews nicely in just about any format: auto-drip, pressure, espresso, etc. Highly recommended
Our One and Only
This is the only coffee we have wanted to drink for the past 2 years.
It's a good dark roast and super fresh.
Great coffee for lattes
Love Morning Foglifter and recently purchased an esspresso machine. Ordered this blend for use in the machine and am not disappointed. Coffee is very smooth with no bitterness. Very good for making lattes.