Morning Foglifter // Extra Dark Roast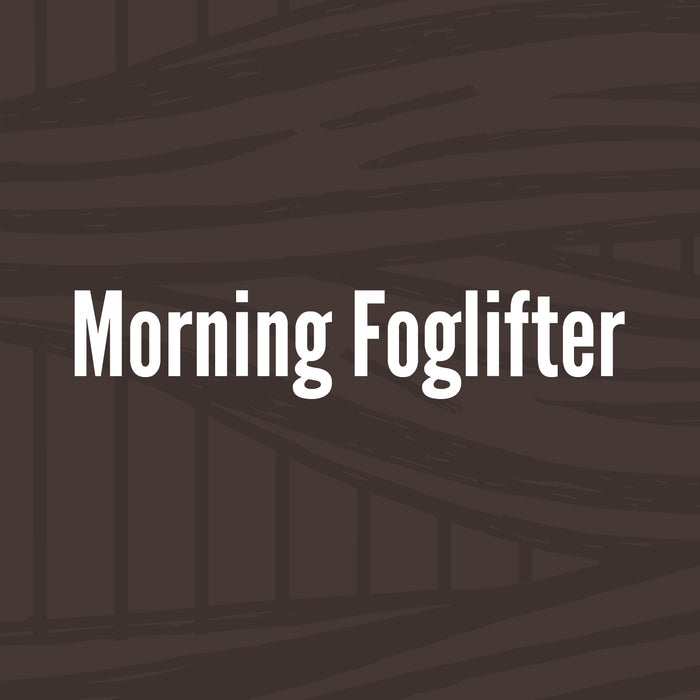 When no amount of eye rubbing or cold water to the face will help with your fogginess, our Morning Foglifter will! Morning Foglifter is a complex, dark-roasted blend of South American coffee beans...bold enough to wake you up, but never bitter. Our most popular blend.
I'm in love with this coffee
I used to drink the darkest roast I could find in a red can of dusty ground brown stuff from the Acme. Then I got a burr grinder for Christmas, started working from home, and went on a quest for whole bean dark roast. After months disappointing gazillion dollar bags of beans from around the web, it was suggested (my kids know everything) that I try beans roasted locally. And that's where the affair began. I got bags of each of Pike Creek's medium to darkish roasts available at Zingo's, ordered another couple online, and fell in love with Morning Foglifter. It's dark and fragrant, with that smack of rich coffee goodness I love first thing in the morning. There's a sweet undertone, but no bitter taste or acidic burn. It's got a kick to it, but not like a triple espresso--just like a good cup of coffee should.
Now I order it by the 10 lb. bag and one of the guys from Pike Creek delivers it to my front porch. Yes, I said TEN POUND BAG. I drink a lot of coffee. Okay, I share this stuff too (with the kids who know everything). I'm so relieved to have completed my quest for the perfect coffee, and done with that crap in a plastic can.
I love this coffee, I feel good about supporting local business, and I get a kick out of the look on Brad's face when he hands me that gigantic bag. The neighbors are starting to talk.
This will lift the fog
Pike Creek is such a find. We are a dark roast household, and these guys do it right. Morning Foglifter is rich and tasty, with a bit of roasty zing that provides an expresso note w/o crossing the line. We make it strong - 14 measures to 8 oz of water - but I'm sure it's plenty flavorful with less. Bonuses: local, and fresh!
Great coffee for everyday.
Love this coffee black. No need for sugar or cream. Very smooth and not bitter. I will be buying again!